Stockholm Hiking Trails
Duration: ± 8 hours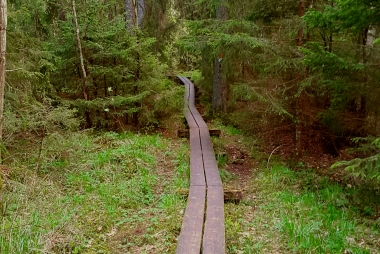 Difficulty level: medium / sportive
When: May – September. Scheduled department at 10:00 on
Sunday. Also bookable on other days from 2 or more people.
For whom: For those interested in Sweden's / Stockholm's
nature, trail hiking, walking, hiking, nature reserves, forest,
the outdoors,beautiful scenery, photography, active, swimming
and beach BBQ's.
Stockholm Hiking in a nutshell
This hike will take you up to the highest point in the entire province of Stockholm! During this trip you will walk through a nature reserve which contains one of the oldest forests in the province and has a rich biodiversity. The beautiful trail's surroundings change rapidly, and you will pass enchanting forests, rocky plateau's, and plains. A small part of the hiking trail shares route with one of Sweden's most popular and best known hikes; Sörmansleden. 
Pictures Trails
What to see?
Environment: During this hike you'll see lots of traditional Swedish pine forests which are as beautiful as they are magical. What's special about this area is that it consists of primeval forest. Other then forest there will be rocky plateau's which look like a sea that has turned to stone. These are made out of granite with no plants growing on them at all. There you can find rocks containing crystals. You will also encounter plains that actually look more like the savanna than the typical Swedish woods. We also pass a typical Swedish lake.
Often encountered wildlife: Common to see during this hiking trip are birds of prey (mainly Falcon and Buzzard) and lots of different birds species such as woodpeckers. Often spotted bigger mammals are especially deer. Other common-to-see wildlife are non poisonous snakes and fox. Special about this area is that there is a large number of capercaillie in the area. Less common to encounter but present in the area are: moose, golden eagle, badger and linx.
Itinerary
Rendez vous at the meeting point.
Making way towards the Stockholm hiking trails.
Hike starts.
Coffee break.
Continuing the hike.
Lunch break.
Continuing the hike back to the van.
Swim option
Drop off at the meeting point.
What to bring on this excursion
Hiking boots / hiking shoes.
A warm sweater.
Comfortable (waterproof) walking trousers.
Sunglasses
Camera
Binoculars
Included in the tour
Pickup and drop off from central Stockholm
A guided hiking tour with a professional guide
Lunch
Swedish fika (coffee with pastries)
Backpack
Water
Rain poncho
Outdoor sitting pad
Hiking poles
Small group, max 8 travelers per guide
Beach BBQ Dinner
Ultra compact travel towel to keep!
Other important information
The Stockholm Hiking Tour involves physical motion and being in healthy shape is therefore required.
Not suitable for children below 15 on a scheduled departure. During a private booking there is no age limit.
Day program in detail
At the meeting point you will meet your guide and your group where you will get an introduction to the hiking trip.  A 30 minute drive will take you into the unknown. On arrival you receive your equipment for the day and start hiking in a magical forest after which the hike will take you past a lake and dense pine vegetation before reaching the first break where you'll get to enjoy some coffee and pastries. Along the hiking trail there will be both natural resting spots and human made resting spots available. There will be plenty of time to get to know each other, enjoy nature and have breaks. From here on the trail slightly starts to go up and for a kilometer or so it converts with the popular and famous hiking route Sörmansleden which covers about 1000 km! The environment changes from thick forest into rocky plateau's and it will start to look more like savanna then traditional Swedish forest. The trail leads past some boggy fields, but it's well taken care off and you will not get wet feet. You'll pass Sweden County's highest peak where we will have lunch! As you get closer to the end the area will become greener and more open. At the end of the hike your guide will return you to the meeting point. We end at a lake with a small beach and a campfire where you can have a swim and cool down from the hiking!
Booking
This tour runs on Sunday from May up until September. For a private tour any date between May and September is available
[booking nummonths=1]
Meeting point
For the stockholm hiking trails day the meeting point is Norrmalmstorg, 103 92 Stockholm, in the middle of the square. With a private tour you will get picked up from your accommodation.

Other tours in Stockholm
If you're more interested in nature and off-trail hiking have a look at the Off Trail Nature Hike instead. Is your time limited but you still want to see Sweden's nature? The Small Adventure will suit you better. For wildlife watching check out the Wildlife Safari, and if you're sporty you might want to have a look at either the Mountain Biking Day or the Kayak Tour
Pricing
Scheduled department: 1180 SEK. Children up to 18 and students up to 25 years old (with student card and id) 850 SEK.
Private booking: 1-2 people 2360 SEK + 1180 SEK for every extra person.
Stockholm Hiking Trails