The heart and soul of our company: Our guides. They are the ones that you will meet on the tours and they are the ones that create amazing experiences!
Pieter Dingemans

Owner, manager, guide
About: Pieter originally comes from the Netherlands, where nature and outdoor opportunity in general is quite scarce. Being a real outdoor-freak, immigrating to Sweden was a logical choice for him.  Now he wants to help you to experience the same as he did during his adventures in Sweden; experiencing unspoiled nature through an active outdoor trip.
Experience: Pieter has finished two educations within tourism and is a certified guide by the Dutch Society of Travel Enterprises (ANVR). He has guided tours in Asia, Scandinavia, the Netherlands and several other local attractions. He has work experience with different companies as a wildlife guide, outdoor sports guide, coach guide and purchase employee at a travel agency.
Spare time: During summer time he loves to hike, but mountain biking and kayaking are also high on the list of things to do in his holidays! Being from Holland he loves to ice skate in the winter time. Cross country skiing and snowboarding are his second and third favorite activities during the snowy season of the year.
Henrik Forsberg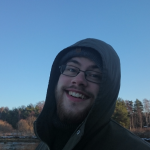 Guide
About: Henrik comes from Northern Sweden and grew up on the country side. Coming from a hunting and farming family up North where wilderness is plentiful, Henrik knows a thing or two about nature. Having lived in the forest in a tent for over a year, Henrik is a real wilderness man!
Experience: Henrik has followed an extensive outdoor guiding education lasting three years. On top of that he has graduated in outdoor lifestyle and leadership. He has work experience as a local guide, historical guide, working at mountain stations and with outdoor equipment.
Spare time: In the summer time you will find him walking trough the woods or canoeing down a river, and in the winter time he's out cross country skiing. If you can't find him in nature, he is making his own outdoor equipment.
Cecilia Nordin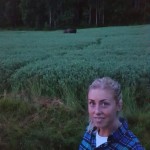 Guide, creative writer
About: Cecilia grew up in the Swedish countryside, and has always had a passion for the nature, activities and wildlife that surrounded her. Her natural curiosity and living location has given her much knowledge of Swedish nature and wildlife. If you meet her on a trip, make sure to ask her about it! On top of that she's a brilliant copywriter.
Experience: She has work experience in guiding, sports instructing, hosting leadership courses and in the hospitality business, giving her a perfect background to guide our trips. Her education in anthropology has also trained her in writing amazing texts with which she helps us!
Spare time: Cecilia loves to go out camping in her time off. She's a real nature freak! Apart from that she likes to snowboard during the winter time, and in the summer time you can meet her in Stockholm, cruising around on her longboard.
Alexandre Esquerdo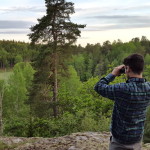 Guide, promotion
About: Alexandre grew up in Southern France, but the Swedish nature made him move to Stockholm to work for us! You can now meet him on our hikes and safaris. However he will probably never get used to the weather completely, a career in the outdoor activities around Stockholm is more than enough for him to cope with missing the French sun!
Experience: As a graduate of eco-tourism he has got a solid background in guiding, sustainable business and promotion within the tourism business. His work in American summer camps also prepared him for guiding and welcoming our international guests from all over the world!
Spare time: When Alexandre is not in the forest, he loves to travel. Apart from that you can't separate him form his guitar!