Hiking in Sweden, Höga Kusten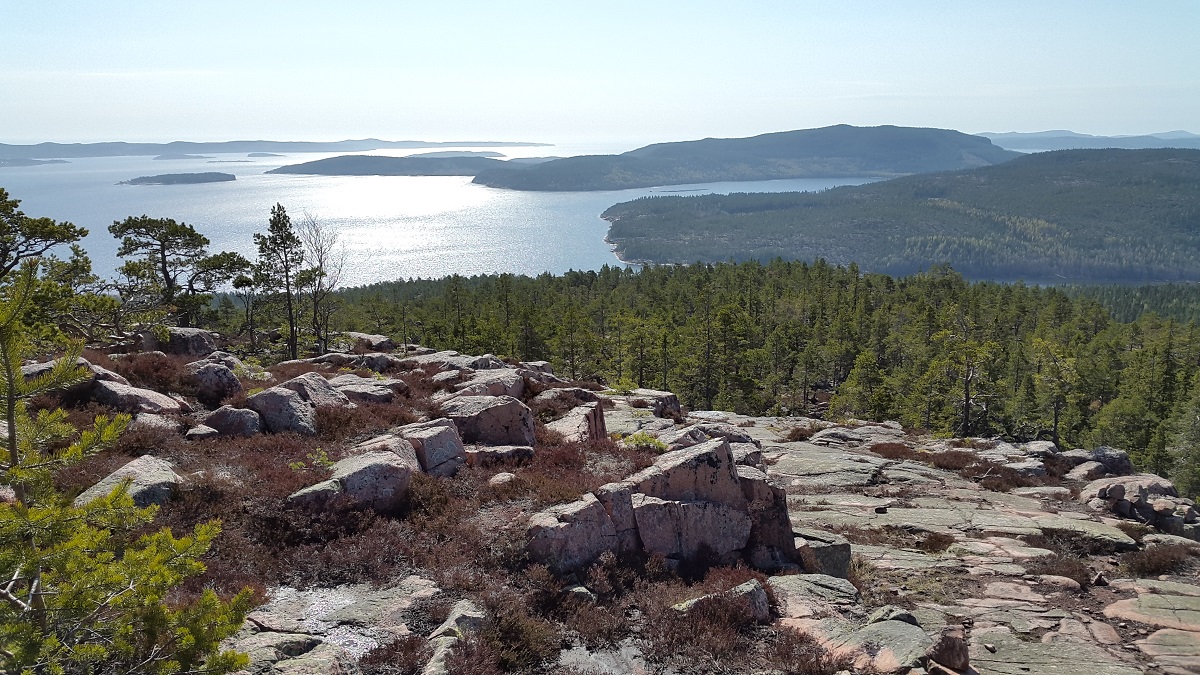 This 3-day hiking in Sweden expedition will surely one experience never to forget! This trip up North to a UNESCO world heritage site is perfect trip for anybody interested in hiking, beautiful landscapes and an adventure. We carefully set out this route in Sweden's most beautiful hiking area, and we selected hiking trails covering all of the surrounding's highlights. No prior hiking experience is required for this expedition. We won't only carry out this hiking expedition, but we will also learn lots and gain valuable, practical hiking tips along the way!
Hiking in Sweden: where?
Sweden's High Coast, part of UNESCO's world heritage list. We carefully selected this route to contain all the best highlights and breathtaking nature of this area in a relatively short amount of time and short walking distance. The hike will go through mystical pine forest, past spectacular viewpoints, over islands, through canyon, past coast line and more.
For whom
This tour is especially suitable for both the beginning hiker and the intermediate hiker. Although this expedition does not require previous hiking experience, it is important that every participant is in healthy physical condition.
Also recommended for those that:
Want to learn from, and enjoy the expertise of, an outdoor guide
Want to get the most possible out of a 5 day hike thanks to our preparation and planning
Don't have the equipment for this kind of expedition or climate
Want to try out hiking before investing into the expensive equipment that it demands
Learn about:
Apart from experiencing the amazing area and simply enjoying hiking in Sweden we will take time to learn about:
Basic bush craft
Basic orienteering
Benefits of lightweight hiking and backpacking
Hints on hiking and backpacking, i.e. how to pack, what to bring etc.
Sweden, with main focus nature and outdoor life
Plants and wild foods
Wild life in Sweden
Included
2x Transport from and to Stockholm (± 500 km one way)
2x Cafe fika (coffee and pastries)
2x Restaurant meal
2x breakfast, 2x dinner, 1x lunch (all necessary food) during the hiking expedition
Lightweight, high quality equipment
Option to buy the equipment you used afterwards for a very sharp price
3 Full days with an outdoor guide
Learning about many aspects of nature and hiking
Day 1 – Dawn & Drive, through Green and Blue
Meet your guide and fellow travelers for the expedition at 09:00 in central Stockholm. We'll have an introduction in a local cafe to the expedition program and to each other. After getting to know the other travelers we start heading North by air conditioned minivan through beautiful Swedish nature. The further we get the more spectacular the area becomes! During this drive we often see: moose, deer and birds of prey. We'll have some stops on the way and also have lunch. We'll arrive to a nature information center where we get to learn some about the area we will be entering. Before heading out, we take time to learn the best way of packing a backpack for hiking in Sweden! Upon arrival to a national park we gear up and eagerly start the trip. This part of the hike will lead us through a valley with deep pine forest, untouched by humans for decades and decades. These woods are as from a fairy tale, and contain flora and fauna that are only able to live in very unpolluted and bio diverse environments. A personal favorite of the guide, this part of the expedition is very undiscovered. We will also pass lakes, waterfalls, beaver dams plenty of truly beautiful unspoiled nature! In the late afternoon we arrive to a cabin where we will have the choice to either sleep inside or camp outdoors. After a campfire dinner we have the opportunity to use dusk for beaver and moose watching!
Day 2 – Past Canyon and Isle 
During the seond day we will cross over spectacular canyon! The geological interference on the land will be very clear to see, and we'll hike over bare rock peninsula's of different color. Afterwards we start the climb towards without a doubt one of the best viewpoints in Sweden! Another highlight of the day will be making way through the spectacular rift valley, an area where the earth has parted in two leaving a thin, long stretched crack of over 30 meters high! We will have a break at a deserted cabin at a lake where we get to eat, regain energy  and warm up if necessary. Once more fresh we continue over canyon paths, being able to see all over the Baltic Sea! That's when we start descending and heading down to the islands where we will spend the night. Again, we will be able to choose between a cabin and camping outside.
Day 3 – Over Beach and Panorama, Dusk and Done
Waking up to birds chirping we climb out of our sleeping bags and enjoy breakfast.This day we will hike along the shore line, and we'll come past ceremonial graves that are centuries old! We enjoy a coffee break on a beach and take the time to take in the views. We make our way back to the van and conclude our wonderful time in the outdoors! First things first, we head to a lunch place where we enjoy the luxuries that we have been missing out on. With a satisfactory full belly we start heading back to Stockholm, where you will (hopefully!) enjoy being in the city again in contrast to the expedition you just experienced!
When
We carefully selected the dates of this expedition for the smallest chance on rain, mosquito's, temperature and autumn colors. Of course this excursion is also bookable on request at any time of the year.
12 September – 14 September
Meeting point
The meeting point for the high coast hiking adventure is restaurant Organic Green (the Northern marker), Rehnsgatan 24, 103 92 Stockholm. With a private tour you will get picked up from your accommodation.

Other tours in Stockholm
Limited time but still want to hike and camp? Have a look at our Stockholm Nature Camping Adventure instead! Check out the 3-day kayaking trip if you'd like to camp in the archipelago. Or if day trips are more your thing we've got you covered too. Increase your chance to see wildlife watching on the Wildlife Safari. And if you'd rather spend a day on the water exploring the archipelago you might want to have a look at the Kayak Tour! Into hiking, but no time for a camping trip? You'll love the off-trail hike.
Traveling with us
✓ Traveler's satisfaction guarantee! Not satisfied? We refund!
✓ Happy travelers from over 50 countries
✓ Swedish EcoTourism Association standards
✓ Small scale and personal off-the-beaten track adventures
✓ Climate smart and responsible travel (read more)
✓ Collect memories, not things!
✓ Satisfied customers with TripAdvisor's Certificate of Excellence
✓ Adventures made easy, just a click away!
Pricing
4250 SEK p.p.
Hiking in Sweden, the Höga Kusten Expedition