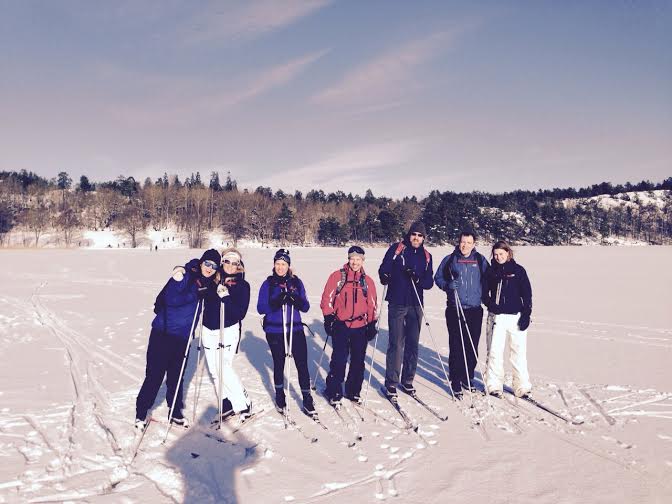 Joining The Green Trails is joining ecotourism. If you join one of our adventures you automatically contribute to nature conservation and fair trade! It's very important  to The Green Trails to create great outdoor experiences for you. What's at least as important to us is that we do this in a responsible and sustainable way!
Jump to:
– Tours
– Transport
– Suppliers
– Products
– Staff well being
– Active contribution
Raising awareness on our tours
During our tours we take clients (mostly foreign tourists) out in Swedish nature. Wether it be by bike, foot, ski or kayak, we go into detail on how to treat Swedish nature respectfully. This includes raising awareness on the following topics:
– Allemansrätt
– Rules and etiquette in nature reserves
– Fire making
Behaviour during tours
During our tours we practise time in nature and healty excercise, improving the well being of our guest. We actively keep the area's we visit clean and pick up any trash that can be found. We also apply everything we taught during raising awareness. On our activities we don't damage the local flaura and we use (FSC) fire wood instead of collecting wood from nature to allow dead wood to benefit the local fauna (dead trees attract bugs, which attracts birds etc.). We only make fire in the therefore designated area's and encourage our guests to do the same on their later adventures. Not leastly we try to encourage and awaken the interest in, and enthusiasm about, nature and outdoor lifestyle, so that our guests will hopefully become nature ambassadors in their home countries.

Transport on our tours
Transport is the category which provides the biggest share of our carbon footprint, because there is no other way for us to transport equipment and guests to the designated places than by car. For transportation during tours we use a minivan. We make use of second hand leasing vans, not using new products to minimaze our carbon footprint. We try to minimize our kilometers, and only use vans if we really have to.
Business transport
For business transport (meetings, fairs etc.) we always use public transport, preferably the train which in Sweden runs on renewable energy for 100%. For business trips that require the usage of airlines we always make sure to book via platforms as http://greenseat.nl/en/ or likewise to compensate the emissions.

Outdoor equipment for on our tours
For our outdoor equipment we use suppliers that have an environmental policy that correlates with our own. Our suppliers must be strong in minimalizing emmissions (by neutralizing them and producing in sustainable ways with sustainable materials), and fair trading by not exploiting (production) workers and providing employees with fair wages and humane working hours. Therefore we make use suppliers as Haglöfs and Fjällräven.
Other supplies
These suppliers are i.e. the supermarkets where we buy food for tours. All food is bought at KRAV certified shops and when available, fair trade ecological products and/or locally produced products are chosen (and in this order of preference).

Outdoor equipment for on our tours
We minimalize the amounts of gear we use and extend the timespan of usage. I.e. we use items until they are worn out. When they break we have them fixed and only when it's necessary do we buy into new equipment, so not for changes in fashion.
Other equipment
I.e. the cups, containers, water bottles, table cloths etc. We make no use of one-time usage products, and pick only the reusable products.

Primary circumstances
We provide a fair pay for employees and our weekly working hours don't exceed an average working week, providing employees with enough time for relaxation
Secondary circumstances
We try to enhance life quality for employees by:
– Varying the work tasks, keeping work interesting and fun.
– Working ergonomically by varying from physical to mental tasks, and ergonomically shaped office equipment (chairs etc.)
– Involving employees and encouraging them to use their creativity.

Naturskyddsföreningen
The Green Trails actively contributes financially to Naturskyddsföreningen to conserve nature.
Cleaning nature on our tours
On our tours we actively keep nature clean: We pick up any thrash that's found it's way into nature and try to conserve it in that way.
In case we're too busy and we can't help you any further, we'll make sure you get your adventure anyways via our partners! of course, they are as eco-friendly minded as us. For kayaking you can join a guided tour or you can rent a kayak. Also a hike and a sailing trip are things our partners can arrange for you if we can't help you out! For rental gear we highly recommend Sporthyra, as they offer high quality gear for sharp prices from sea kayaks to ice skates. Got a taste for outdoor adventures after joining us? There's a wide range of outdoor activities ready for you to join!