Sailing Stockholm Archipelago
Sailing Stockholm Archipelago one day, Highlights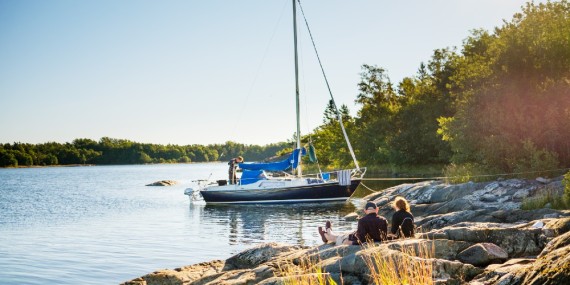 Spend a day out in the stunning archipelago, away from the city buzz
Learn the basics of sailing with your skipper
Enjoy a nice lunch and relax on sun-warmed granit rocks
Dare a swim in the refreshing Baltic Sea. No one regrets it
Hike an easy path and get great panoramic views of thousand islands
Get picked up and dropped off from central Stockholm, only we do this
Sailing is a great way of seeing beautiful places where you can't come otherwise, and Stockholm happens to have the perfect environment to do so! Learn how to sail from your experienced skipper, navigate through Stockholm archipelago's many islands, see white tailed eagles soar through the sky, enjoy boosting forward by nothing but wind power and experience life on a sailing vessel! Allow yourself to relax during a well appreciated lunch break away from the wind and any kind of disturbance.
 Pictures 

For more pictures and tour reports check out our FaceBook page!
 Sailing Stockholm: what to see?
Environment: On this sailing trip you will be making way through Stockholm's famous archipelago, and encounter many islands, both uninhabited and inhabited! We start off at Gålö, a 45 minutes drive away from central Stockholm.
Wildlife: See bird life such as white tailed eagles, swans, cormorants and much more! Grey seals can also be seen on this trip.
 Itinerary
Rendez vous at the meeting point.
Pickup and transport to the boat by your skipper
Sailing and safety introduction
Set out on the trip
Lunch / swim / hike / relax break on remote island
Continue sailing
Return to embarking point
Transfer back into Stockholm
 Day program
The skipper will meet in you in the morning and together you'll transfer by car to the harbor where our sailing boat is moored. After a short introduction about the Stockholm's archipelago and safety, you will help the skipper to hoist the main sail and the genoa! If you feel brave enough, the skipper will offer you to steer the boat under his supervision. Around noon there will be a generous lunch break on an island from which swimming, hiking  and relaxing on warm granit rocks will be advised. Only with us you'll moor the boat on a "nature harbor" and not a marina (see the drone picture above). Maybe we'll even try to catch some fish! When all are rested and fresh, you set sails again towards the harbor and then on drive back to Stockholm.
Included in the tour
Only with us: Car pickup and drop off from central Stockholm
A sailing trip with a professional and friendly skipper
Learn or improve your sailing skills and steer the boat
Eco-lunch enjoyed in a "nature harbor"
Traditional Swedish fika (coffee with pastries)
 Meeting point
Metro stop Gullmarsplan, the Southern marker.

Other important information
We normally sail on a Scampi 30
We provide a modern life jacket to every guest
Maximum guests per trip is 4 (or 5 if kids in the group). Larger group? No problem, contact us some time in advance so we can prepare the big sailing boat.
Booking
This tour only runs on request. Pick any day that suits you and we will get back to you as soon as possible with a confirmation! Note that the maximum amount of people is 5, and the minimum amount of guests is 2.
This sailing trip has student- and youth discounts. These only apply with:
Student: valid student- and ID cards. Does not apply for PHD students. Max age 25.
Child: valid ID card. Max age 15.


 

Things not to forget on this trip
Shoes/sneakers are preferred above flipflop/sandals
Warm sweater plus your normal set of clothes
Waterproof or/and windproof jacket
Swimming gears
Towel, sunglasses and sunscreen
Camera
Other tours in Stockholm
If you want to see Stockholm's archipelago but you'd rather do this by kayak, have a look at the Kayak Tour. Fancy seeing and learning about Swedish nature? The Off Trail Hiking might be your cup of tea! And if you're more excited for seeing Swedish wildlife in abundance check out our Wildlife Safari! If you're into multiple-day trips we've got you covered as well. Check out out 3-day Kayaking Trip, the overnight 3-day High Coast Hike or our one night Nature Camping Stockholm tour.
Traveling with us
✓ Traveler's satisfaction guarantee! Not satisfied? We refund!
✓ Happy travelers from over 50 countries
✓ Swedish EcoTourism Association standards
✓ Small, personal groups
✓ Off-the-beaten track adventures
✓ Climate smart and responsible travel
✓ Memories for a lifetime
✓ TripAdvisor's Certificate of Excellence
Sailing Stockholm Archipelago