Archipelago Tour Stockholm, Bear Island
Duration: ± 7 hours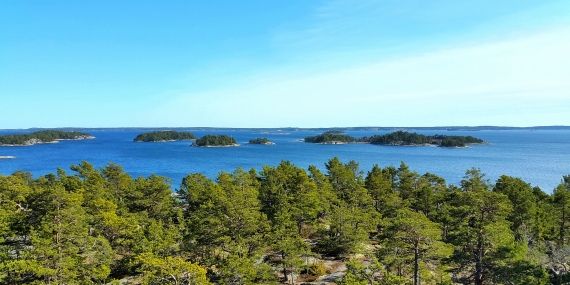 Difficulty level: medium
When: May – September. Scheduled department at 10:00 on Thursday. Also bookable on other days from 2 or more people.
For whom: For those interested in the Stockholm archipelago, hiking, walking, nature, culture, sightseeing, forest, countryside, viewpoints, photography, the outdoors, beautiful scenery.
Archipelago tour in a nutshell
Get a taste of Stockholm's archipelago life.  On this tour you will experience everything that's typical for the Stockholm archipelago, from beaches, viewpoints, unspoiled nature, countryside and even wildlife! During this light island trip you'll get to see landscapes that are unique to Stockholm. A BBQ on the beach, coffee with pastries and all equipment is provided for. 
Pictures Archipelago Tour Stockholm
Archipelago Tour Stockholm: What to see?
Environment: On this tour you will see and walk over lots of granite cliffs and plateau's which are very typical to Sweden. There will be lots of views over the Baltic Sea and the other islands. The area is rich in berries, especially the edible blueberry and lingonberry. Other areas you'll come across are traditional Swedish countryside (red houses) and pine forest.
Often encountered wildlife: The Bear Island is not home to bears, but deer can be found in great numbers. There is a lot of sea bird life of which the most spectacular one is the sea eagle.
Archipelago tour itinerary
Rendez vous at the meeting point.
Making way towards the nature reserve in Stockholm's archipelago.
Short hike.
BBQ lunch on the beach.
Continuing the hike.
Viewpoint.
Making our way back to the van.
Drop off at the meeting point.
What to bring on this excursion
Hiking boots / hiking shoes.
A warm sweater.
Comfortable (waterproof) walking trousers.
Sunglasses
Camera
Binoculars
Included in the tour
Pickup and drop off from central Stockholm
A guided hiking tour with a professional guide
Lunch
Swedish fika (coffee with pastries)
Backpack
Water
Rain poncho
Outdoor sitting pad
Hiking poles
Small group, max 8 travelers per guide
Other important information
This tour does not run in July.
This tour involves physical motion and being in healthy shape is therefore required.
Not suitable for children below 15 on a scheduled departure. During a private booking there is no age limit.
Archipelago Tour detailed program
You will meet your guide at the meeting point where you will also meet your fellow travelers and get information about the tour. A 45 minute drive later you will arrive at the island. The hike starts off straight away with an ocean view. You make way towards a beach where you will enjoy lunch. With a full stomach the tour continues and from the coastline you make way inland through forests. The tour will take you past country side, the local harbor and back into the forest which is rich in deer. You hike up to a viewpoint and can see all over the Baltic Sea and the islands in it. After enjoying a coffee-and-cake-break you continue the hike past the coastline and through the forest. The last part of the tour will take you over easily accessible roads that are a welcome change after the forest tracks, slowly making your way back to the van.
Booking
This tour runs on Thursday from May up until September. For a private tour any date between May and September is available
[booking nummonths=1]
Meeting point
The meeting point for this tour is Norrmalmstorg 1, 103 92 Stockholm, in front of Nobis Hotel at the square. With a private tour you will get picked up from your accommodation.

Other tours in Stockholm
If you are more into endless nature without signs of civilization you might enjoy the Hiking Tour or the National Park Hike more. Is your time limited but you still want to see Sweden's nature? The Small Adventure will suit you better. For wildlife watching check out the Wildlife Safari, and if you're sporty you might want to have a look at either the Mountain Biking Day or the Kayak Tour
Pricing
Scheduled department: 930 SEK. Children up to 18 and students up to 25 years old (with student card and id) 600 SEK.
Private booking: 1-2 people 1860 SEK + 930 SEK for every extra person.
Archipelago Tour Stockholm, Bear Island